Traveling abroad requires a significant amount of planning and preparation. Prior to arriving to our destination, we have a preconceived idea of what we will see and do throughout our trip. As tourists, we are immediately drawn to the famous attractions that a location has to offer. We travel to Paris planning to see the Eiffel Tower or to New York City hoping to visit the Statue of Liberty. As we explore a new destination, we become absorbed in the process of checking locations off our lists, snapping selfies as we go. We become engrossed in the idea of showing the world all the renowned places we have been, to say to our friends and family, "Look at me, look where I am!" Within our obsession to meet our touristic goals, we often skip past the myriad of veiled treasures a new destination can offer us, neglecting to explore the authenticity of a new country or city.  It is within these hidden gems that the most valuable experiences can be created.
We are drawn to tourist attractions because they cater to us, they show us what we want to see all while attending to our basic needs abroad, never allowing us to fully escape our comfort zone. Tourist traps serve as a safety net, they offer us a sense of familiarity because we know what to expect and the feeling of stepping into the unknown is less severe. However, leaving our comfort zone and truly exposing ourselves to the genuine aspects of a culture is the best way to get the most out of the experience. Leaving the safety of a tourist trap and getting lost in our exploration of the city allows us to create a memorable experience where we not only see everything on our list, but also introduce ourselves to the reality of life in our temporary home abroad.
When we allow ourselves to stop being tourists and absorb a destination as if we were locals, we are gifting ourselves more than just bragging rights. Living like a local allows us to gain more than just photos, it gives us the gift of broadened horizons and new insights. Exposing oneself to the inner beauty of a new city or culture allows us to return home with beautiful photos and great memories, but most importantly, a better understanding of the world. In the midst of our planning, departing, and exploring, we neglect the significance of our trip. It is often once we return home that we reflect and recognize all that we learned while abroad, especially when we relieve ourselves from the safety of tourist traps.
photo credit: WanderingtheWorld (www.ChrisFord.com) 'Off to School', Vietnam, Dak Lak Province, Buon Yuan, Girl on Bike via photopin (license)
[accordion_tab title="Collegiate Correspondent: Sasha Simonson" default]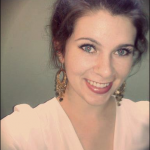 Sasha is a graduate of Salisbury University with a BA in Spanish and she is TEFL Certified. She has a love of languages and travel and has spent time in Argentina, Spain, Denmark, England, and much more! She is a native of the Eastern Shore of Maryland.
[/accordion_tab]