Are you one of those people that will check a million different airline websites to compare prices?  If you are, luckily there is a solution to this hassle!  Dohop.com is a travel website that you can use to compare prices of flights, hotels, and rental cars on one single site… no need to open up 10 different tabs.
The site works like this:
If you are looking for flights, you put your origin and destination cities, dates, and number of passengers and Dohop provides you with flight options from over 20 different airlines.  

Once these options appear, you can narrow down your search by specifying whether you want direct or connecting flights, departure/arrival times, connection times, airports, and providers.  

Providers are the outside companies that offer the flights so once you find a flight that appeals to you, you will be brought to the flight provider such as Kayak, MyTrip, Tripsta, Orbitz, etc.  Note: you cannot book the flight directly on Dohop.com,

If you're looking for hotels, you enter the city, region or district of where you want to stay, dates, and number of people and rooms, and Dohop will bring you to Booking.com's hotel search results (which happens to be one of my favorite places to book hotels)!  It also gives you the option to compare to other similar sites, which is great.
Not only is the site extremely functional, but the interface is very user-friendly as well.  The site prides itself on its simplicity and design.  The font is simple, the color scheme bright, and the logo is aesthetically appealing and changes based on the device being used.  For example, on a computer or laptop the full logo appears, while on a smartphone you'll see a smaller, condensed logo.  
One unique feature that Dohop offers is the "GO" feature.  The "GO" feature is found at the top of the page next to Flights, Hotels, and Rental Cars, and it allows users to explore flight options from one location to practically anywhere.  You choose the month(s), amount of days, and specify days of the week you want to travel and you don't even have to put in a destination -it finds them for you based on low prices!  For example, if you put in Bogota, Colombia as the origin, it gives you flights to Cartagena, Panama City, Quito, etc. based on your established criteria.  The "GO" feature is a great tool for people with more flexibility and freedom in their travel plans who are looking to find the very best deals available.
Don't forget to download the Dohop smartphone app available on both the App store and Google Play Store to book travel anytime, anywhere, and on the go!
[accordion_tab title="Collegiate Correspondent: Kelsey Boeshore" default]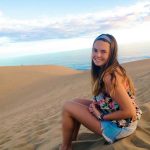 Kelsey Boeshore is from New York and graduated from Marist College in 2015 with a degree in Spanish and minors in Global Studies, Latin American/Caribbean Studies, and Social Work and she hopes to eventually pursue a master's in International Education.  Currently, she is a Fulbright ETA in Colombia and will be living in Bogota, Colombia, for the foreseeable future. Kelsey studied abroad her junior year in Seville, Spain, where she got a CELTA English teaching certificate, and Havana, Cuba.  She also took a gap year in 2010 and was a Rotary exchange student in Portoviejo, Ecuador, for 11 months before going to college. [/accordion_tab]